This episode is taken from, one of the most beautiful books I've ever read. Amory wrote The Cat Who Came for Christmas in 1987 about his adventure rescuing a stray, hurt, starving white cat from a Manhattan alley on a snowy, cold Christmas Eve in 1977. This book spent twelve weeks at #1 on the New York Times bestseller list.
Below are a few links to the book
Before we start into the history of this book and the reading I want to say that this book has special meaning to me. I saw Mr. Amory on the Today Show when he was on his publicity tour for this book. I was so moved by his story that I rushed to the bookstore that morning to pick up a copy. You see, a few years before a stray grey cat showed up at my apartment door during a 5 a.m. thunderstorm. I was just out of college and having a rough time in my life, and was trying to figure out a painless, easy, not messy, efficient way to kill myself.
This cat made a commotion at my door waking me. I opened the door to find this mess of a scrawny cat standing there, he walked in like he was home— and by doing so, turned my life around. I named him Simon, and he was my first serious love affair. He gave me purpose, and he was so pathetically thin he needed me to help him. I wrote about this event on my blog in a story titled, Saved By a Cat.
Cleveland Amory was an author, critic, commentator and animal rights activist. His life made the world a better place. I encourage anyone listening to this to google and read more about him, because he was very special.
Amory graduated Harvard in 1939. He was the youngest editor ever hired by The Saturday Evening Post. He left that position to work in Military Intelligence for the U.S. Army during the Second World War. Around 1945, he witnessed a bullfight in Nogales, Mexico which influenced him to become an animal rights activist.
He had a long career as a reporter and writer for national magazines, and as a television and radio commentator. He was a regular columnist for the Saturday Review and T.V. Guide. He was a commentator during the beginning years of the Today Show in the early 1950s where he began to voice his opinions on hunting—eventually getting fired for those commentaries.
His novels ranged from social history books, starting with The Proper Bostonians (1947), and continuing through The Last Resorts (1952) and Who Killed Society? (1960. These books satirized the pretensions of the upper class society, particularly in Boston. He became popular with his best selling novels, there are three of them, about his adopted cat, Polar Bear—featured in this podcast episode.
With all this success in his career, his most important work was done for animals, and I want to emphasize the word, 'For'.
In 1967, Amory founded the Fund for Animals, with a planned focus on protecting animals from hunters and creating animal sanctuaries. The Fund struggled during the first years of its existence, but became known in 1979 for sponsoring a removal by air and land of 582 Grand Canyon burros slated for destruction by the National Park Service.
Inspired by Anna Sewell's novel Black Beauty, Amory established the Black Beauty Ranch, a 1,460-acre sanctuary that sheltered various abused animals including chimpanzees, burros and elephants. Located in Murchison, Texas, this ranch accommodated over 600 resident animals. Amory's goal when creating the animal refuge was to "create a sanctuary where its inhabitants would roam unfettered and unbothered by human taskmasters." The words on the ranch's gate are taken from the final lines of Sewell's novel, "I have nothing to fear, / and my story ends. / My troubles are all over, / and I am at home.
The ranch is located very close to Dallas, Texas in Murchison, Texas—about an hour-and-a half east near Tyler, Texas, and close to where I was born and raised in East Texas. I will be moving back to that area in early 2022 to live deep in the beauty of the wooded tall pines.
Black Beauty Ranch is available for tours, so you can contact them. The cat in this podcast, Polar Bear is buried there. In a very touching and appropriate end, Cleveland's ashes were placed in a pierced urn around the neck of his favorite donkey, named Friendly. Friendly then scattered his ashes around the sanctuary as she walked about. A grave marker for Cleveland is placed alongside the grave of Polar Bear.
Friendly was the last surviving donkey from the original 582 burros that were rescued from the Grand Canyon in 1979. She passed away in 2011 at 36 years old.
Most of this information is taken from his wikipedia. I do want to encourage you to read more about his amazing work.
And now, it's time for the Catcast. This is the first chapter in The Cat Who Came for Christmas about the capture of Polar Bear.—and remember to check our website for links to this book. It's written in Cleveland's voice, so try to imagine a man's voice as I read the story. And now, I can hear my teakettle, and a few cats are cozied around me.
PODCAST READING of Chapter One, The Cat Who Came for Christmas. (Heard on the podcast recording)
The Literary Catcast is dedicated to the preservation of writings with cats as main characters.
The meows and purrs for this episode are from our own Christmas Cat named Louie Blue Eyes. He's our foster, and will be delivered to his forever home before Christmas. Louie is about 5 months old. He's creamy-tan colored with a red point Siamese look. He was rescued from a feral colony here in Dallas in November, and fostered with us to gain weight and nutrition for his emaciated body and to heal from parasites, worms and much like Polar Bear, a terrible limp. In fact he reminds me of Polar Bear.
This is recorded in 2020. I wish everyone peace, happiness, and the best life possible.
Now, if you listen to the podcast, wait for the final purrs of Louie Blue Eyes.
I'm Phebe Phillips. Thanks for listening.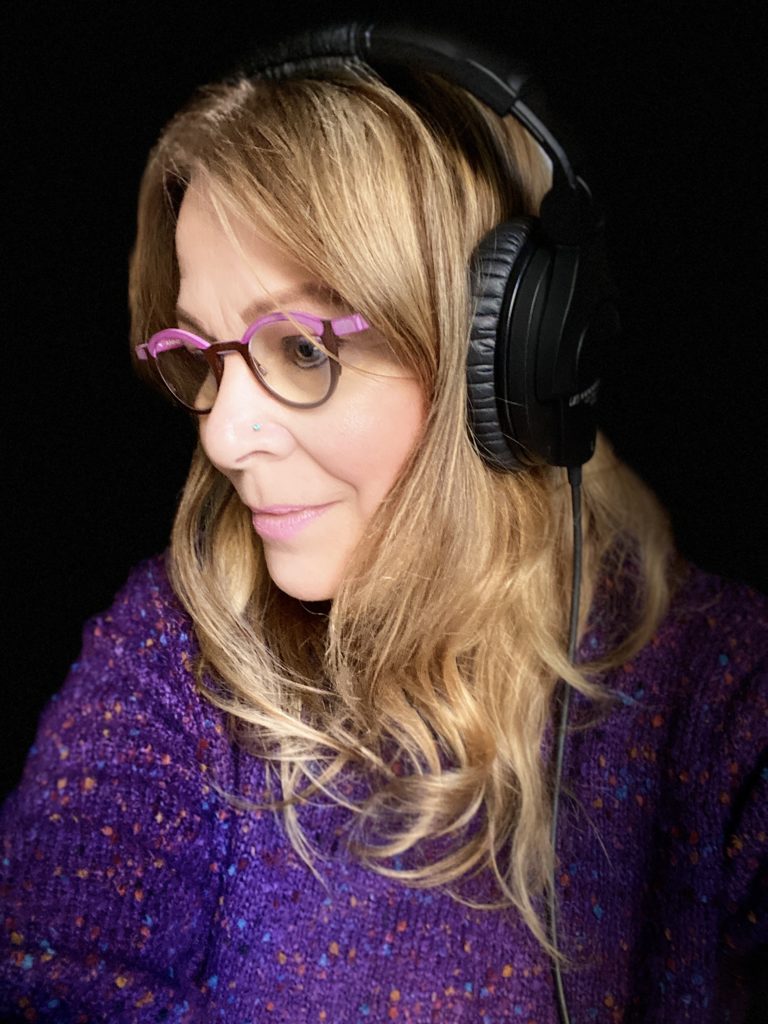 So, I have a correction to make to this episode. I state that Louie is going to his new home to be a Christmas cat. Louie had a wonderful home waiting for him in the Tyler, Texas area. After healing all his issues, he still battled diarrhea that seemed impossible to cure. We spent months with him, and he was still with us in January (2021). Mac developed a heavy bond with him, as Louie would lie on a donut bed, on Mac's desk all day, every day as Mac worked. Mac's birthday was January 12th. That morning, I told him I don't have a gift for you…you need and want nothing. He looked at me and said, "All I want is to keep Louie." Well, that was it. I phoned the future owner. She fully understood, and remarked that she half-way expected this to happen. Here's the photo from later that morning, when I tell Mac he's getting to keep Louie Blue Eyes—forever! Happy Birthday, Mac! I Love You!