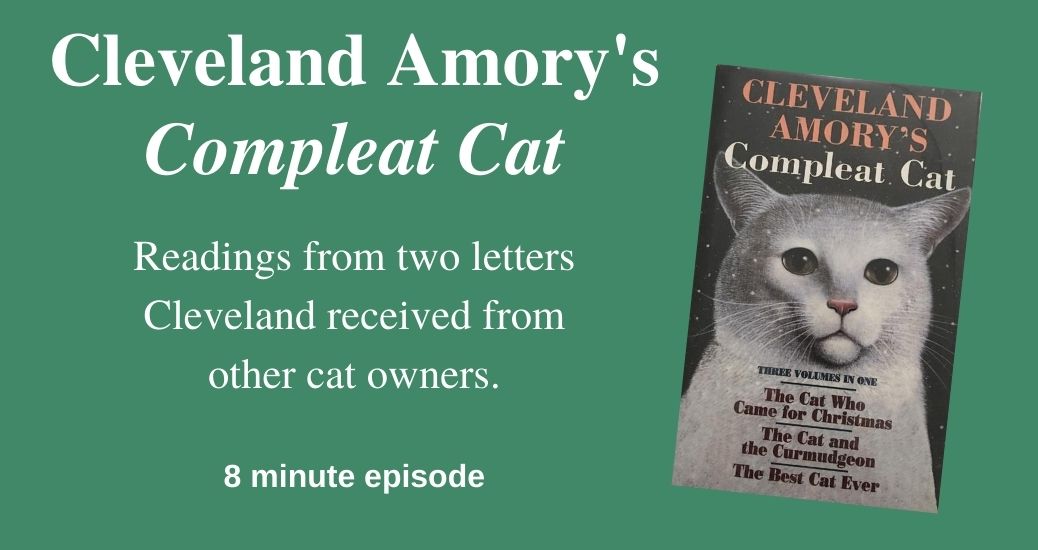 Welcome to the first episode of The Literary CatCast Podcast.
After seeing Cleveland Amory with his white cat, named Polar Bear, on a national morning show in 1980, I rushed out to a local bookstore for a copy of The Cat Who Came for Christmas. Immediately charmed by the story of Amory's rescue of a white stray cat from a New York City alley on Christmas Eve 1979, this quickly became a memorable book.
In April 2017, a four-month-old homeless kitten that had been eating from the community food bowl on the back terrace of my studio, walked in. I had been working for weeks to gain his friendship, and at last the choice was his. We named him Harold-of-God, a word play taken from the Brazilian healer, John-of-God.
At the time, unbeknownst to me and my husband, our thirteen-year-old standard poodle boy—Henry Franklin Hargrove was dying from a very rapid, aggressive intestinal lymphoma that on the day Harold walked in had not been detected. Their relationship overlapped by three months. Harold helped us heal, hence the name Harold-of-God. You may follow him on Instagram.
We were so delighted with Harold, that I remembered Cleveland Amory (1917-1998) and his wonderful writings about his cat, Polar Bear. On an Amazon search I found The Compleat Cat, one volume with all three of Amory's novels about Polar Bear. I began reading stories out loud on car trips, and this is where the idea of the The Literary CatCast originated. It seemed fitting to use an excerpt of Mr. Amory's for the first episode.
If you are, or have a cat lover in your life, this is a must have book. You may buy it as three individual novels, or this single volume.
About the episode—after Mr. Amory wrote his first book The Cat Who Came for Christmas, Polar Bear became a very famous cat. Letters poured in addressed to Mr. Polar Bear filled with stories about cats. In his second book, The Cat and the Curmudgeon, Mr. Amory published a few of the most interesting letters. In this episode, I read two of the letters—one about a cat named Jose, and another letter about a cat named Arthur.
There will be more from his three novels in future podcasts. On another note, Mr Amory is buried beside his cat Polar Bear about two hours outside of Dallas in Murchison, Texas on an animal sanctuary he founded, The Black Beauty Ranch—still active and protecting animals today.
Not enough can be said about Cleveland Amory's work for animals. He founded The Fund for Animals. I hope this podcast helps others discover him and his timeless achievements for animals. He does not need to be forgotten.
Book Details
Title: The Compleat Cat: three volumes in one.
Author: Cleveland Amory
Date Published: 1987, 1990, 1993
Publisher: Black Dog & Leventhal Publishers, Inc.
ISBN: 1-884822-28-2
The Compleat Cat is a compilation of these three novels. They are listed below individually.
Author: Cleveland Amory
Date Published: 1987
Publisher: Little, Brown and Company
ISBN: 0-316-03737-0
Title: The Cat and the Curmudgeon
Author: Cleveland Amory
Date Published: 1990
Publisher: Little, Brown and Company
ISBN: 0-316-03739-7
Title: The Best Cat Ever
Author: Cleveland Amory
Date Published: 1993
Publisher: Little, Brown and Company
ISBN: 0-316037-44-3
Featured Cat
The "Meows" for this episode were voiced by Olivia, a sixteen-year-old grey and white. Her favorite pastime is napping, followed by eating.
I hope you enjoy The Literary Catcast. I would love to hear from you. I never plan to have sponsors—this is a work of love. I have no set schedule to release episodes, because as I mentioned the reading is very time intensive, so please subscribe to stay tuned, and tap the 5-stars if you listen on Apple Podcasts.
Cheers to cats, hot tea, excellent writers, and good story telling. Thanks for listening.